SEA Concrete Contractors' services – including concrete slab foundations, sidewalks, driveways, patios, and many more – are available in and around Seattle, Washington. On this page, we've put together information about some of the communities we serve. If you're a homeowner or business in any of these communities and you need concrete services, give us a call.
Seattle, WA isn't just the biggest city in Washington State – it's the single largest metropolitan area in the entire Pacific Northwest and the 15th-largest metropolitan area in America. As of 2019, the Seattle metropolitan area's population was measured at 3.98 million. Located on an isthmus between Lake Washington and Puget Sound, Seattle is the seat of King County and the closest major city in the "lower 48" to the state of Alaska.
The Seattle music scene is the stuff of legend. The city has played important roles in the history of jazz, rock (Jimi Hendrix was born there), and – perhaps most famously – grunge. Seattle is also notable for its strong performing arts presence, the Seattle Great Wheel, and a number of arts and history museums. Local professional sports teams include the NFL's Seattle Seahawks, the MLB's Seattle Mariners, and the NHL's Seattle Kraken.
With a GMP of $231 billion as of 2010, Seattle is home to large companies both old and new. Fortune 500's 2017 list featured a total of five Seattle-based companies: Amazon, Starbucks, Nordstrom, Weyerhaeuser, and Expeditors International of Washington. Boeing was also previously based in Seattle.
A suburb located to Seattle's east, Kirkland is located in King County and had a population of 93,010 as of 2019. Kirkland is the sixth largest city in the county, and Washington State's 13th largest city. It was named after businessman Peter Kirk, who founded Kirkland in 1888 and established a steel mill there.
Kirkland is known for its downtown district, which is located on the city's waterfront. This district is characterized by its art galleries, public art, public parks, a performing arts center, and other amenities. In the team's earliest years, Kirkland was also where the Seattle Seahawks were based. Well-known people hailing from Kirkland include professional baseball outfielder Travis Snider, Miss USA/Miss Washington USA 1968 Dorothy Anstett, and Fleet Foxes singer-songwriter Robin Pecknold.
Previously, popular warehouse club chain Costco had its headquarters in Kirkland. The chain later moved its headquarters to the nearby city of Issaquah, WA. However, the Costco brand known as "Kirkland Signature" is still named after the suburb.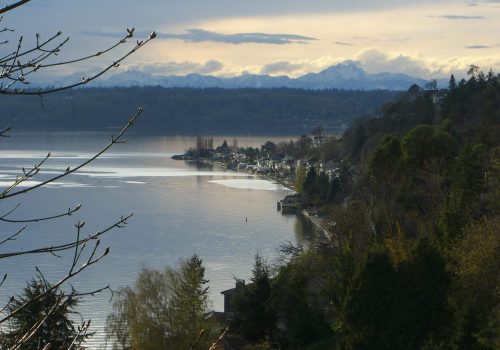 With a population of 33,313 as of 2010, Burien's population has grown by 49.7 percent since it was incorporated in 1993. A more recent estimate had the city's population listed as 51,500. Located south of Seattle, settlement in the area where Burien is now located goes back to 1864; in the past, this area was known as "Sunnydale."
The area near SW 152nd St. on the west side of Ambaum Boulevard is known as "Olde Burien," and is home to many idiosyncratic restaurants and businesses. Seahurst Park – a 178-acre park with beach access and forested land – is also located in Burien. King County Metro operates public transportation in Burien, including bus service to nearby cities.
Downtown Burien's "Town Square" development project was finished in 2017. This project enhanced the downtown area with retail space, apartments and condos, a senior center, a library branch, a park, and a senior living center. Burien's City Hall is located on the library building's top floor.
A city connected to Seattle, Bellevue, and Tacoma by highway and rail, Kent had a population of 92,411 as of 2010. Later that year, the annexation of the Panther Lake area boosted the city's population by 11,000. After Seattle, Kent is the oldest incorporated city in King County – it was incorporated in 1890.
Sports teams playing in Kent include the Western Hockey League's Seattle Thunderbirds and the Major Arena Soccer League's Tacoma Stars. The city was named Washington's "Sportstown of the Year" by Sports Illustrated in 2003. Kent Station, a shopping, entertainment, and dining complex, is also located in Kent.
Amazon and Boeing both operate facilities in Kent, and REI, Oberto Sausage Company, and Seattle Bicycle Supply all have their headquarters in the city. Since the early 20th century, Kent has been home to many businesses in the steel industry. Other Kent-based companies include aerospace manufacturer Blue Origin and waterjet companies Flow International Corporation and Omax Corporation.
Ready to get started on your next Seattle concrete job, or just need more information? Call our phone number or send us an email today.
Sammamish is close to nature – Lake Sammamish is located to the city's west, and the Snoqualmie Valley borders it to the east. As of 2019, Sammamish's population was an estimated 45,780. The city is located on the Sammamish Plateau and was officially incorporated in 1999.
Sammamish residents and visitors alike can enjoy nine parks, two additional parks abuting the community, and the East Lake Sammamish Trail. Many different golf courses and shopping centers are located in the city, as well. Notable people from Sammamish include Detroit Lions tight end Hunter Bryant and U.S. congresswoman Kim Schrier.
As of 2018, the estimated median income for Sammamish households was $183,038 – the highest recorded estimate for U.S. cities with more than 65,000 residents. Sammamish has also been recognized by various media outlets as an ideal place to live. It was named the friendliest town in America by Forbes in 2012, the 11th best place to live in the United States by CNN Money in 2007, and the ninth best place to live by MONEY Magazine in 2018.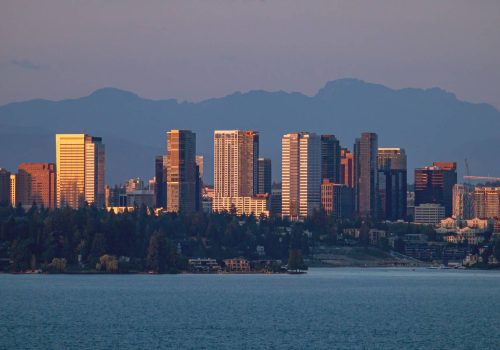 The Seattle metropolitan area's third largest city, Bellevue boasted an estimated population of 148,164 as of 2019. Its downtown district is also the second largest city center in Washington State. The city was officially incorporated in 1953.
Bellevue is the site of many annual and biennial events – including the annual Bellevue Arts and Crafts Fair, which has taken place since 1947. Commercial development in the city has been handled with the protection of local land and water resources in mind. Parks and open spaces in Bellevue include the Downtown Park and the Bellevue Botanical Garden.
The city has enjoyed an economic boom in recent years. Today, companies like PACCAR Inc., T-Mobile, and Valve Corporation currently have their headquarters in Bellevue. Amazon and Facebook both announced plans to establish major engineering centers in Bellevue in 2019. 
Located just 15 miles east of Seattle, Redmond was home to about 71,929 people as of 2019. As determined by artifacts found in Redmond, Native Americans lived in the area for about 10,000 years. European settlers first arrived in the area in the 1870s.
Notably, Redmond is considered the "Bicycle Capital of the Northwest." The city hosts a bike race each year on its streets, and is home to Washington State's lone velodrome (an arena used for track cycling). Additionally, Redmond features 47 public parks across more than 1,351 acres of land.
During the '90s, a commercial boom took place in Redmond. Today, the city is home to the headquarters of several technology companies, including Microsoft Corporation and Nintendo of America. Other major employers in Redmond include Terex, Honeywell, and Stryker Corporation.